Big Bald Oaf
Big Bald Oaf is the main character in Kirby, Fish, and Eli's favorite TV show, "Big Bald Oaf".

Shredlock
Shredlock is a wizard with a guitar that usually shoots electricity.
TriButt
Kirby's drawing of a bald man in a track suit with three butt cheeks.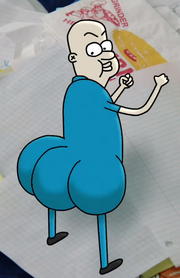 ScrunchFace
Kirby's drawing of a man with an unusually scrunchy face.
Dr. Gut Punch
Kirby's drawing of a crazy doctor who wears a red boxing glove and punches his patients.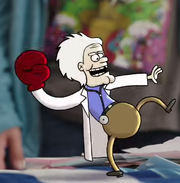 Macho Taco
Kirby's drawing of a living, wrestling, taco, inspired by when Eli ate a "Mystery Taco".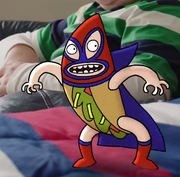 OctoStache
Kirby's drawing of a pirate-like man who has an eight tentacled mustache that he uses as hands.
Mr. Flice Guy
Kirby's drawing of "Flice", a mutant cross breed between flees and lice.
Dippy the Frog
Kirby's drawing of Eli, Fish, and a toy frog together.
Zip Zap
Kirby drawing of alien who hates humans mankind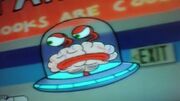 Dexter
Dexter is Fish and Kirby favorite pinball game.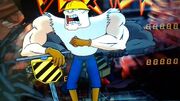 Ad blocker interference detected!
Wikia is a free-to-use site that makes money from advertising. We have a modified experience for viewers using ad blockers

Wikia is not accessible if you've made further modifications. Remove the custom ad blocker rule(s) and the page will load as expected.